Munibe Ciencias Naturales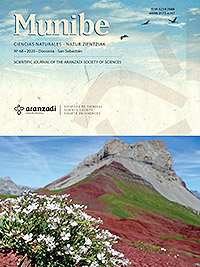 Munibe Ciencias Naturales
ISSN (internet) 2172-4547 / ISSN 0214-7688
Munibe Ciencias Naturales is the scientific Journal of the Aranzadi Society of Sciences, research center founded in 1947 with the main objective of the investigation, application and spreading of Sciences. Munibe has an annual regularity and publishes original works of investigation sice 1949 connected with the areas of Geology, Botany, Zoology, Ecology and Environmental Studies. Included in the Latindex catalogue and indexed or resumed by Historical Abstracts, ICYT, Zoological Record, Francis, America, History and Life.
Munibe Ciencias Naturales is a full open access journal. Web users have the right to read, download, copy, distribute, print, search, or link to the full texts of articles.
Munibe Ciencias Naturales does not have either article submission charges or article processing charges (APCs).
Scientific committee:
Chief Editor
Dr. Iván de la Hera, Oklahoma State University
Associated editors
Dr. Fernando Alda, University of Tennessee
Dr. David Álvarez, University of Oviedo
Dr. Emilio Barba, University of Valencia
Dr. Alberto Castro, Aranzadi Society of Sciences
Dr. Aitor Cevidanes, NEIKER-BRTA
Dr. Ignacio Doadrio, MNCN-CSIC
Dr. Arturo Elosegi, University of Basque Country
Dr. David Galicia, University of Navarre
Mr. Alberto Gosá, Aranzadi Society of Sciences
Dr. Cristina Herrero-Jáuregi, Complutense University of Madrid
Dr. Asier Hilario, Geoparque Mundial de la UNESCO de la Costa Vasca
Dr. Ricardo Ibáñez, University of Navarre
Dr. Eduardo Leorri, University of East Carolina
Dr. Beatriz Martín, Fundación Migres
Dr. Ibai Olariaga, Universidad Rey Juan Carlos
Dr. María Torres-Sánchez, University of Florida
Editorial board:
Lourdes Ancin, Aranzadi Society of Sciences, in charge of Library
Ariñe Crespo, Aranzadi Society of Sciences, Secretary´s Office of the Department of Ornithology
Ion Garin, Aranzadi Society of Sciences, Department of Herpethology
Joseba Butroe Jauregi, Professor of euskera
Brian Webster, Nature Institute of Araba
Juantxo Agirre-Mauleon, General Secretary, Aranzadi Society of Sciences