Munibe Antropologia-Arkeologia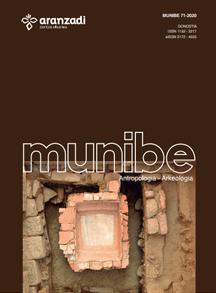 Munibe Antropologia-Arkeologia
ISSN (internet) 2172-4555 / ISSN 1132-2217
Munibe Antropologia-Arkeologia is one of the journals published by the Sociedad de Ciencias Aranzadi Research Centre, which was founded in 1947 with aim of protecting, researching and disseminating our archeological, ethnografic and natural heritage.
The journal is targeted at the scientific community, particularly those interested in anthropological issues. It is published once a year, although each issue is accompanied by diverse supplements. It carries out exchanges also with other similar scientific publications, thereby enriching the bibliographic resources of its library. Munibe Antropologia-Arkeologia is indexed by SCOPUS since 2013, also Anthropological Literature, Francis, Georef and Isoc, and included in the Latindex catalogue.
Munibe Antropologia-Arkeologia is a full open access journal. Web users have the right to read, download, copy, distribute, print, search, or link to the full texts of articles.
The journal Munibe Antropologia-Arkeologia does not have either article submission charges or article processing charges (APCS).
---
Editors
Director: Dr. Juan Luis Arsuaga ­ University of Madrid
Main editor: Dr. Alvaro Arrizabalaga ­ University of the Basque Country
Scientific committee
Dr. Juan María Apellaniz: University of Deusto
Dr. Pablo Arias: University of Cantabria
Dr. Angel Armendáriz: University of Cantabria
Dr. Giovanna Bianchi: Universitá degli Studi di Siena - Italia
Dr. Pedro Castaños: Aranzadi Society of Sciences
Dr. Nicholas Conard: Eberhard Karls Universität Tübingen - Germany
Dr. Miriam Cubas: University of Alcalá - Aranzadi Society of Sciences
Dr. Francisco Etxeberria: University of the Basque Country – Aranzadi Society of Sciences
Dr. Javier Fernández Eraso: University of the Basque Country
Dr. Philippe Fosse: Université de Toulouse - Le Mirail - France
Dr. Pascal Foucher: Service Regional d l´Archéologie. Midi-Pyrénées - France
Dr. Marcos García: Complutense University of Madrid
Dr. Iñaki García Camino: Bizkaia Provincial Government
Dr. Naroa García-Ibaibarriaga: University of the Basque Country
Dr. Lourdes Herrasti: Aranzadi Society of Sciences
Dr. Alex Ibáñez: University of the Basque Country –Aranzadi Society of Sciences
Dr. María José Iriarte: University of the Basque Country
Mr. Fermín Leizaola: Aranzadi Society of Sciences
Dr. Marco Milanese: Universitá degli Studi di Sassari - Italia
Dr. José Antonio Mujika: University of the Basque Country
Dr. Blanca Ochoa: University of Durham - United Kingdom
Dr. Carlos Olaetxea: Gipuzkoa Provincial Government

Dr. Xabier Peñalver: Aranzadi Society of Sciences
Dr. Juan Antonio Quirós: University of the Basque Country
Dr. Andrew Reynolds: University College of London - Great Britain
Dr. Luis Ríos: Complutense University of Madrid
Dr. María Ruiz del Árbol: CSIC
Dr. Jesús Sesma: Navarra Regional Government
Dr. Queral Solé: Univesity of Barcelona
Dr. Lawrence G. Straus: University of New Mexico - USA
Dra. Amélie Vialet: Muséum National d'Histoire Naturelle.CNRS (Francia)
Editorial board
Dr. Alvaro Arrizabalaga: Secretary of the Editorial Board (University of the Basque Country)
Mr. Juantxo Agirre-Mauleon: General Secretary, Aranzadi Society of Sciences
Ms. Lourdes Ancin: In charge of Library, Aranzadi Society of Sciences
---
Year:

2020

Series:

CQK Estudios de Cuaternario 10

ISSN:

2445-1282